Adjusting to All the Changes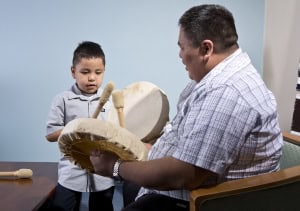 In Alaska, we are all hunkering down, and self-quarantining for the safety and well-being of our family, loved ones, friends, neighbors, co-workers,and ourselves; it is the new normal for now. Adjusting to children being at home, social distancing, the lack of shopping, entertainment, and group exercise can be hard. Especially with the added layers of new laws and mandates coming from the municipal, state, and national level. Restaurants, gyms, theaters, schools, and most businesses are closed.
As the world adjusts to this current reality, it can be helpful to focus on the things that each of us have control over. Creating structure by maintaining a daily routine can influence how successfully we adjust to the constant changes that are happening outside of our control. For many, this new normal has meant working from home. It is yet another change to adjust to. To help navigate this transition, try to designate a work space to create some separation between home life and work.
For individuals with children, creating normalcy can be more challenging but is just as important while all these changes continue to occur. When working from home consider making sure your family and children know to limit any distractions for a certain time throughout the day. If both parents are working from home, consider setting up a family schedule that helps balance work and family needs. This may mean allowing more screen time than normal for children or identifying productive activities that children can work on independently, such as an art project, reading a book, or building Legos®.
While it's a change for us all, it's a very necessary change to protect the health and wellness of each of our communities. The first week at home, there was a collective narrative of not knowing how to adjust to social distancing. It is important to take things day by day. We should all focus on treating our bodies right, creating ways to exercise at home, or taking a walk outside while remembering to be six feet apart from anyone. With the extra time at home, it is a great time to be encouraged to make healthy, home cooked meals. We must remind ourselves that our minds and bodies are so intricately connected, and remember that physical health impacts mental health on every level.
In challenging situations, it can be helpful to re-frame your thinking, while navigating this pandemic, Southcentral Foundation invites you to look for the blessings. While COVID-19 is a devastating pandemic, it is important to sustain a positive outlook. Look at the many changes as an invitation to create healthy new routines, take time to rest, relax, and focus on your health, or clean and organize a project that you've been putting off.
Finally, and arguably the most important, this current outbreak is a reminder to not take those we love for granted; take time to connect with your family and loved ones over text, phone, or video chat. We are all in this together, and together we are incredibly strong. Remember to stay connected, stay grounded, and stay safe. Together we will overcome this challenging time.