Book Inspires High School Students to Implement a Diet of Traditional Foods for Increased Wellness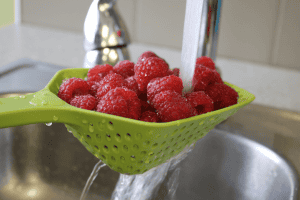 Have you heard of Michael Pollan's book, In Defense of food? It details an experiment that strongly supports the theory that abandoning a Western diet in favor of one consisting of traditional foods can lead to vast improvements in your health. Last year, a group of Igiugig High School students got their hands on Pollan's book, and after reading it, were compelled to initiate a Native food challenge in their community.
The experiment Pollan based his writing on took place over seven weeks in the early 1980s, and featured a group of 10 middle-aged, city-dwelling Australian Aboriginal people, each suffering from obesity and diabetes. The group had previously eaten only a Western diet; in the seven weeks, they moved to the remote Australian Outback and ate foods traditional to a hunter-gatherer lifestyle. At the end of seven weeks, a physical exam and blood draw from the participants found striking improvements in virtually every measure of their health. Pollan's advice to achieve similar results? "Eat food. Not too much. Mostly plants."
Prior to beginning the Native food challenge, participants prepared by monitoring their blood pressure and weight, developing a list of allowable foods, and securing and harvesting fish, berries, greens, and game meats. Then, beginning Sept. 17, 2017, approximately 100 Igiugig community members challenged themselves to eat only traditional foods, locally raised foods, and oatmeal for a six-week period. Results from the challenge are still being collected, but preliminary follow-ups appear to show positive outcomes, closely related to those of the Australian experiment.
by SCF Health Education