Dr. Randy Zernzach has a gentle and calm demeanor, with a kind smile and a twinkle in his eye; an almost ideal persona for a pediatrician.  A veteran of the U.S. Air Force Academy and a former E-3 pilot stationed at Joint Base Elmendorf-Richardson, Zernzach graduated medical school in 1995 and traveled around the lower 48 as a pediatrician assigned to a variety of military bases. , he found himself with referrals of children who had been labeled developmentally disabled. As his patient list grew, he found himself drawn to this group of children and the amazing families he worked with. Following three additional years of training with the Madigan Army Medical Center and Seattle Children's Hospital, Zernzach was officially a developmental behavioral pediatrician.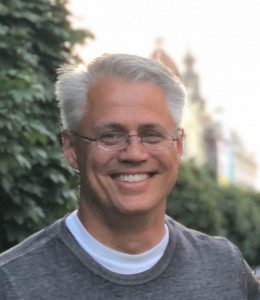 Throughout the next few years he traveled with the military, and ultimately retired with 31 years of service. During those travels, he came to Alaska and fell in love with not only the state, but also his wife Christine. Although timing was not perfect for a permanent move here, he knew he wanted to come back. In 2012, Zernzach interviewed with a local Anchorage medical facility, but didn't feel it was the right fit. "I was looking for something different than business as usual," Zernzach remembers, noting that he was looking for a more comprehensive and connected clinic home.
While turning down a job may seem like a hurdle, it caused some medical leaders in Anchorage to question why he turned it down and what he was looking for. After many conversations, and lots of relationship building, Zernzach was approached a few years later with this position for this clinic. When he heard what the vision was for this clinic, he said, "it felt like someone had read my notes. They built it just like I dreamed it could be."
What does a dream developmental clinic look like? It looks like a large interdisciplinary team—a well-oiled machine. The sub-specialty of developmental and behavioral pediatrics is surrounded by other critical specialties: speech therapy, physical therapy, occupational therapy, applied behavior analysis, behavioral health, psychologists, individual and family counseling, psychiatry; all of these specialties working together under one roof. This idea of integrated side-by-side teamwork with a group of specialists like this doesn't exist anywhere else in the world.
One of the overriding concerns of other specialists in his field was the lack of communication among community team members. Rarely did primary care doctors or specialists hear back from the therapists, or other behavioral health providers. There was no coordinated treatment plan. There was no connection between doctors and therapists for the individual or the family. By creating this specific working environment, along with the use of the electronic health record, communication barriers will be minimized.
Child and Family Developmental Services will serve children with developmental delays caused by any number of reasons, such as autism, ADHD, prenatal exposures, and more. Many children find themselves with a complex combination of disorders.  All components of the various conditions will be addressed with competent and complete communication. Interdisciplinary assessments will be able to effectively cover all areas of potential need. Not every customer-owner will see every specialty, but they will have access to them all and be able to develop a family-centered treatment plan. This clinic will not take the place of primary care but will allow this team to work with primary care for a comprehensive approach.
This is just the beginning. Given the scope of Alaska, telemedicine will be used in the future to ensure all of Alaska has access. The focus will initially be the younger customer-owners who don't have a needed diagnosis or a treatment plan. Zernzach notes the importance of the first 1,000 days of child's life; "the first thousand days are a critical period of a child's development for the brain's neuronal connections and growth". This idea of being able to help at developmentally sensitive periods in child's life was what drew Zernzach to the field of pediatrics in the first place. Working with kids allows a provider to "make a difference early that can change the trajectory of their lives." Although his first complex cases as a new general pediatrician made him concerned he didn't have all the tools to help, he found that he really was called to "care for these kids—these families. The 'hard ones' were the ones I needed to help the most."
When looking at what makes this clinic different, other than the connections, a large part is the man who will lead it. His views and approach to these children are part of what will make this a unique clinic. "I try not to let what [the kids] have be their defining characteristic or label. They are unique individuals who may have diagnosis of "x" or "y", but they are not an "x-child" or a "y-child," Zernzach stressed. An approach like that is just what a place like the Alaska Native Health Campus will value: someone who is focused on the individual and relationships, not just business as usual.
-by Amanda Cantrell
https://www.southcentralfoundation.com/wp-content/uploads/2018/08/001_SCF_Logo_FC_Web-300x180.png
0
0
acantrell
https://www.southcentralfoundation.com/wp-content/uploads/2018/08/001_SCF_Logo_FC_Web-300x180.png
acantrell
2018-08-27 09:15:11
2018-10-17 08:59:40
Child and Family Developmental Services Welcomes Newest Medical Provider