Customer-Owners Have Options to
Access Health Coverage and More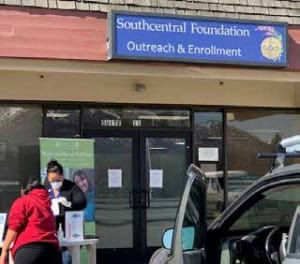 When individuals or families go through transitions, whether they are starting or leaving a job, moving out of their parents' house into a place of their own, gaining a new dependent, retiring, or turning age 65, the benefits for which they might be eligible may change. Family Health Resources helps navigate these transitions by walking customer-owners through a quick eligibility screening, which includes asking questions about their household composition and income, and discussing programs for which the customer-owners are eligible. FHR also assists with applying and enrolling in different programs, with the goal of making the process as easy and understandable as possible.
Many customer-owners do not know, in addition to health insurance, FHR can help with public assistance programs like Supplemental Nutrition Assistance Program benefits/Food Stamps, Senior Benefits, Adult Public Assistance, and Temporary Assistance for Needy Families. Applying for Medicaid and other public assistance programs through FHR has advantages, such as a reduced processing time for applications, submission tracking, and assistance with providing additional information the Division of Public Assistance may need for approval. Since spring 2019, the DPA has eligibility technicians stationed on the Alaska Native Health Campus who are there to process applications submitted by SCF and Alaska Native Tribal Health Consortium. This has meant that applications submitted through ANMC, the turnaround time is faster than the state average.
For Elder community members turning age 65, certified Medicare counselors are available to explain the different parts and benefits of Medicare. FHR also offers a Medicare Part D Sponsorship Program, which allows eligible Alaska Native and American Indian individuals to enroll in Medicare Part D premium free. Customer-owners who are veterans can turn to FHR to assist with enrolling in VA health benefits, and to ensure their benefits are correctly entered into their health records.
In response to the COVID-19 outbreak, FHR is working hard to meet the needs of customer-owners while keeping everyone safe. Customerowners can work with FHR to complete applications by phone, email, mail, or fax. FHR is also accepting appointments for obtaining curbside signatures; after completing an application over the phone, customerowners can schedule a time to visit the FHR Outreach and Enrollment Office to sign their applications, or to drop off documents. The Outreach and Enrollment Office is located at 6901 E. Tudor Road, Anchorage, between Kaladi Brothers Coffee and Subway. Employees are practicing social distancing, sanitizing all surfaces, and preparing applications in advance to make sure the in-person contact is brief. FHR is also introducing customer-owners to the MyQuickApp referral system, bit.ly/MQAReferral. Customer-owners can use this link to complete a quick eligibility screening and schedule an appointment.
Ariel Berg