The NEW Dental Assistant Technology Program
The Southcentral Foundation Dental Assistant Training Program is changing! We are pleased to announce a new partnership with Salish Kootenai College, a Native American institution located in beautiful Glacier National Park, Montana, which will bring an expansion to the program. The new Dental Assistant Technology Program will continue to be taught at SCF with SCF dental faculty, but graduates will complete the program with 55 undergraduate college credits, at no cost to them. Changing to a college-credit program will also allow students to be eligible for college grants and loans, which can help with living expenses while they are studying.
During this five-month program, students will learn in a classroom as well as gain on-the-job experience developing skills critical to the dental assistant profession. These include, but are not limited to:
Assisting in a variety of dental procedures, such as fillings, sealants, and extractions
Studying dental radiology and learning to take radiographs
Educating customer-owners on oral health and dental disease
Learning dental terminology, dental materials, and dental anatomy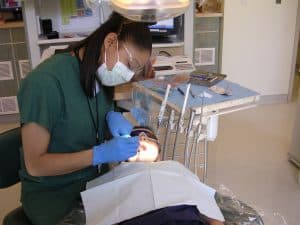 Additionally, all graduates will be eligible to take the National Certified Dental Assistant Examination, which will qualify them to work in any state may go. Former graduates have gone on to dental hygiene school, dental and nursing school, and work in many of the administrative areas of the SCF Dental clinics. The DAT program prepares students for more than just a job; it is the start of a career path that expands and opens doors to the future.
Interested students can learn more about the program by visiting our webpage at the below link.