Elder Program Continues to Provide Services During COVID-19 Pandemic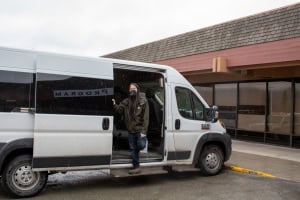 The health and wellbeing of customer-owners is Southcentral Foundation's top priority. Elder customer-owners are among the populations most vulnerable to the COVID-19 pandemic. Out of an abundance of caution, the decision was made in March to suspend in-program services and activities at the Elder Program.
The Elder Program provides services to address the needs of Alaska Native and American Indian Elders, age 55 and older, who reside in the Anchorage area. The services are designed to enhance the quality of life and promote independent living through fostering an environment of quality, dignity, and pride. With the recent changes to service delivery for safety related to COVID-19, the Elder Program has adapted to run services outside program walls.
Elder resource specialists, formerly called Elder providers, have been available to assist Elder customer-owners by phone. Medical transports are still available. Congregate meals at the Elder Program have been suspended but the program is still providing meals for Elders.
Each day, Elder Program employees make their rounds, providing doorstep delivery of food boxes, plated lunches, and dinners to Elder customer-owners in need. In this pandemic, Elder customer-owners are encouraged to stay home and practice social distancing as much as possible. According to the Centers for Disease Control and Prevention, going to high-population areas, such as stores, puts Elder community members at risk for COVID-19 exposure. The food deliveries from the Elder Program reduce the customer-owner's outside exposure, helping to keep them safe.
The Elder Program is thankful to those who have stepped in to help serve Elder customer-owners in this time. RAISE Program employees offered their services driving and delivering food. Mask makers in the Anchorage community donated 300 cloth masks, helping keep Elder customer-owners safer during public outings. Over 1,000 pounds of food was donated from the community — a special thanks to the Food Bank of Alaska and the Kuskokwim Corporation. Thank you to those practicing the Alaska Native value of taking care of Elder community members, which is especially important during this pandemic. All the efforts have contributed to the health and safety of Elder community members.
For more information about services or how to donate, contact the Elder Program at (907) 729-6500.
Esther Robertson