Families are the Focus of New Generations Project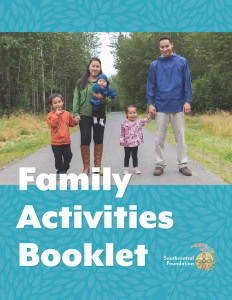 Southcentral Foundation's New Generations Project, previously known as Indigenous Project LAUNCH, began July 2018. The project is a collaboration of SCF departments and community partners to improve services for children and their families. The project is coordinating child-serving systems, building infrastructure, and increasing access to high-quality prevention and wellness promotion.
The project was created to assist Alaska Native families improve their physical, mental, emotional and spiritual wellness. It is doing so by supporting the preparation for and care of new generations. Project employees are inventorying current work, learning from internal and external best practices, and engaging SCF and community collaborators with the goal of creating a coordinated, system approach by
December 2023.
In partnership with Family Wellness Warriors Initiative, the NGP supported families during the COVID-19 pandemic with the creation and distribution of a family activities booklet. The booklet includes fun projects that can be done at home. If you know of any families that would like the booklet delivered, along with crafting supplies, please contact the project. Delivery is available while supplies last. The booklet can also be found online at: https://www.southcentralfoundation.com/services/primary-care-clinics/new-generations-project.
Virtual Snuggle Time groups are being hosted for new moms, infants, and families. Snuggle Time is a peer support group for new parents with babies who are not yet walking where participants learn about baby's growth and development, receive breastfeeding support, and connect and share stories with other new parents. Participants have an opportunity to share their joys and challenges of parenting. If interested in joining, please email NGP at newgenerations@ southcentralfoundation.com.
To ensure the project has direction and considers the parent's perspective and culture, NGP is looking for parents who are interested in serving on an advisory group to develop the project. The Young Child Wellness Advisory Group meets quarterly to help guide and expand the NGP and includes representatives from the project, community partners, and parents.
For information on NGP, please call (907) 729-7430, email newgenerations@ southcentralfoundation.com, or visit bit.ly/SCFNGP.
SCF Public Relations