February is Children's Dental Health month!
Children's Dental Health Month has been celebrated and promoted since 1981, bringing together thousands of oral health professionals such as hygienists, dentists, and pediatric dentists to promote the benefits of good oral health to children (and adults).
The Southcentral Foundation Dental Clinic is dedicated to promoting and providing oral care to over 60,000 Alaska Native and American Indian customer-owners in the Anchorage service unit.  Our clinic and employees participate in providing education at preschools, health fairs and gathering events sponsored by communities and Native corporations throughout the year.
"Attitudes and habits established at an early age are critical in maintaining good oral health throughout life. By participating in the annual celebration of National Children's Dental Health Month, members of the dental team, parents, teachers and others can help keep children's smiles beautiful now and for years to come."
~ The American Dental Association
What are you doing to promote good oral health?
Oral care is a shared responsibility and extends beyond annual visits to the dentist.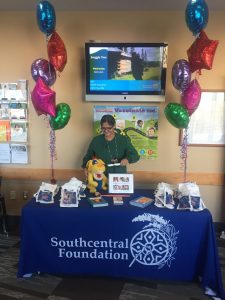 It is important for anyone caring for a child, including caregivers, medical providers, and teachers to promote a healthy lifestyle, which includes daily oral care, nutrition, and education.
Parents can be positive role models by caring for their own teeth and showing children that brushing and flossing are an important part of a healthy lifestyle. Aunts, uncles, and grandparents can help by giving children healthy snacks. When a child is at a sleepover, encourage brushing before bedtime to reduce the risk of cavities.
Medical providers, including doctors, nurses, and certified medical assistants can remind parents to schedule a child's first visit before or when the teeth start to erupt into the mouth or schedule annual visits for older children.  Providers can ask about habits such as brushing and snacking to incorporate a risk assessment into their well-baby exams. Pediatricians can apply fluoride varnish at visits.
Daycare facilities can provide healthy snacks that are "teeth friendly" such as fresh fruits, vegetable and cheese, as well as encouraging brushing after meals while at school. Teachers can incorporate activities in their classroom to have children learn about teeth and their importance or ask a dental professional to present to their class.
Alaska Native children have some of the highest rates of decay in the United States.
 SCF Dental is committed to providing quality dental care and education to our children (and adults), but encourage everyone to do their part to promote oral health 365 days a year!  When children learn, from an early age, the importance of good oral health, we can be successful in reducing decay in the Alaska Native and American Indian people.
To find out when the SCF Dental team will be out in the lobby near you, check out our Facebook Page.
https://www.southcentralfoundation.com/wp-content/uploads/2018/08/001_SCF_Logo_FC_Web-300x180.png
0
0
acantrell
https://www.southcentralfoundation.com/wp-content/uploads/2018/08/001_SCF_Logo_FC_Web-300x180.png
acantrell
2017-02-09 04:41:00
2017-03-08 18:05:43
February is Children's Dental Health Month