Healthy Feet Means Happy Feet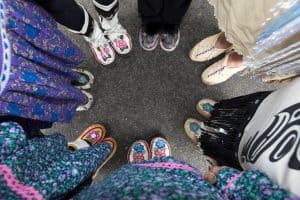 We make many friends throughout our lifetime. While some stick with us through thick and thin, others are in our life just for a season. Whatever the reason, friends come and go over the years. Sometimes friends are found in unexpected places; do yourself a favor and remember some of your best pals: your feet! They carry you when you are tired, they have taken you on adventures, and if cared for properly — can take you on many more.
Foot health can impact a person's overall health, and good foot care can help you stay active, keep your balance, and provide early warning signals for health concerns. A few causes of declining foot health are accumulated through years of walking, working, and healing from injuries. Other possible factors include ill-fitting shoes, poor circulation, being high-risk for diabetes, gout, heart disease, and other diseases that cause foot problems, in addition to the difficulty of properly trimming toenails due to impaired vision or mobility.
What can be done to achieve or maintain good foot health? Here are a few helpful tips developed by Benteh Nuutah VNPCC Wellness Center:
Check your feet every day – Take a few minutes each day to look for swelling, redness, sores, cuts, blisters, bruises, and ingrown or infected toenails.
Wash your feet every day – Use warm water. Don't soak your feet for longer than 10 minutes or your skin may get dry and crack. Pat dry instead of rubbing, and dry well between and under your toes.
Care for calluses and trim toenails regularly – Cut nails straight across and never shorter than the end of your toe. Use a nail file for sharp edges. Use a pumice stone for calluses when your feet are wet.
Wipe off excess cream and do not apply between toes — Use talcum powder if your feet are sweaty.
Wear clean socks everyday — They help to keep feet dry.
Avoid socks with ridges or elastic at the top — These can irritate or restrict circulation. Wear white socks when possible. If there is drainage from a cut or sore, it will be easier to see.
Taking care of your feet is easier if you have the proper tools. If you don't already have a foot care kit, now is a great time to put one together. A foot care kit contains nail clippers or scissors, nail file, lotion (lanolin based is good), pumice stone, and a pocket mirror. These items can be stored in a small box or breathable bag. Storing the kit in the same location after use will make it easy to access when it is needed.
As we get older, there are additional things to be mindful of regarding foot care. If your feet are cold at night, wear socks. If swelling is an issue, elevate your feet when seated. When sitting for long periods of time, remember to wiggle your toes and move your ankles around to improve blood flow to your legs. Also, try not to cross your legs for long periods of time — doing so can decrease blood supply to your feet. If numbness or sensation problems are an issue, do not put hot water or heating pads on your feet. Finally, if your feet are problematic, SCF recommends that you avoid pedicures by non-health care professionals.
Ultimately, your feet are an important part of maintaining good health. With healthy feet, you can improve or maintain your general health by participating in daily exercise and other activities. Take steps to care for your feet like they are your best friends and if any of the tips above are difficult to do independently or if you detect anything concerning or out of the ordinary, consult your provider.
To speak with your provider, call (907) 729-3300 in Anchorage or toll-free at (800) 478-3343.
by Tara Carey and SCF Foot Care Booklet