Indigenous Dance Competition Awards $10,000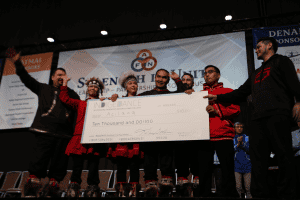 While visiting New Zealand to exchange best practices and share the Nuka System of Care with local indigenous tribes, Southcentral Foundation President/CEO Dr. Katherine Gottlieb and the SCF delegation were honored with a traditional haka by the Tainui Māori people. The haka is a war cry, dance, or challenge from the Māori culture, traditionally used on the battlefield as well as when groups came together in peace. Hakas display a tribe's pride, strength, and unity. Dr. Gottlieb was so inspired by the performance that she brought the idea back to Alaska, where SCF sponsored the inaugural Indigedance Challenge, a competition that challenged groups to create a new and original dance that incorporated the group's culture, history, traditions, and regalia.
In all, five teams competed for the top honor in the challenge. The preliminaries were held at the Nuka Learning and Wellness Center, with four teams advancing to the semi-finals at the Dena'ina Civic and Convention Center during the Alaska Federation of Natives Convention. The finalists danced in front of hundreds who were gathered in the audience on the final day of AFN.
In the end, it was Acilquq who took home the $10,000 grand prize, with a dance based on historical events. Their dance is an expression of the Bow and Arrow War Days, which took place among the Yup'ik and Cup'ik people in the Yukon-Kuskokwim area in the mid-1800s. The dance begins with a warrior chant that intensifies and carries through a battle, before falling completely silent — signifying the devastating toll of war — and ends with one dancer catching a seal and sharing his catch with his starving enemy, bringing peace and healing to the community. This moving dance will be taught to the public at the 2018 Gathering.
A special thank you to all groups who participated in the first-ever Indigedance Challenge! The Yurapik Drummers and Dancers were awarded second place, and the Friendship Dancers placed third. At the award ceremony, Dr. Gottlieb presented the grand prize to Acilquq, who performed their winning dance for a delegation from Aotearoa, New Zealand, at the AFN banquet.