Manage Fitness Goals With My AK Wellness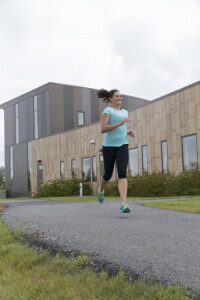 Did you know Southcentral Foundation has a resource that supports customer-owners and employees in navigating their wellness journeys?
My AK Wellness is a free, confidential health and wellness website and mobile app. This resource is available to all customer-owners and employees, including those in the Matanuska-Susitna Borough and the Rural Anchorage Service Unit. Users can track their exercise and food intake throughout the day, participate in friendly competitions, view workout videos, choose an exercise plan, and even log their health information such as blood pressure, glucose levels, cholesterol, and more. My AK Wellness has the capability to synchronize to fitness trackers like FitBit or Garmin, making activity logging easier than ever. Recipes from the Dinner Makes a Difference Learning Circle are also available, along with personalized meal plans and shopping lists to make grocery shopping more efficient.
Joining this online community will not only give customer-owners access to health resources but will also allow them to interact with over 1,300 members of the SCF community in a unique and fun way. My AK Wellness provides challenges and contests with health incentives to encourage customer-owners and employees to form positive health habits. The app also provides information on workout classes and learning circles offered so the user can schedule time to focus on their wellness with others face-to-face.
Getting started is easy. Interested, eligible individuals should visit, myakwellness.cernerwellness.com, select Sign in with Cerner Health, and log in with MyHealth username and password. SCF employees who are not customer-owners will not have this information but can still utilize My AK Wellness by emailing SCFMyAkWellness@scf.cc. Once logged in, users will complete a wellness assessment, which will suggest wellness workshops specifically for them. This assessment will ask about the user's various lifestyle habits so My AK Wellness can compile a personalized action plan to meet the user's goals. Since every customer-owner and employees have their own health histories and comfort levels, these plans are customizable, and users can adjust them to meet their goals.
Activate your wellness journey today, and email SCFMyAkWellness@scf.cc for more information about how to sign up.
SCF Public Relations