Obstetrics and Gynecology Adjusted Services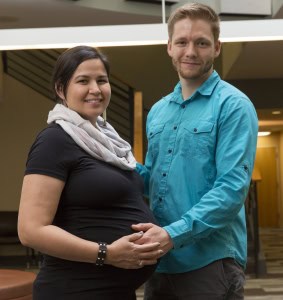 During the COVID-19 pandemic, Southcentral Foundation Obstetrics and Gynecology clinic is open normal hours: Monday to Friday, 8 a.m. to 5 p.m. Services available at this time include prenatal care, urgent care for customer-owners in clinic, and some urgent gynecology. For inpatient care at the Alaska Native Medical Center hospital, there are two different areas for care: OB Triage and the laboring rooms (L&D). OB triage is not allowing any visitors with customer-owners during this time. However, customer-owners admitted into L&D will be allowed one constant birth partner, who will not be allowed re-entry should they leave the unit.
OB-GYN is located on the third floor of the Dr. Katherine and Dr. Kevin Gottlieb Building, 4441 Diplomacy Drive, to the east of the ANMC hospital. Southcentral Foundation provides a comprehensive range of full spectrum health services for Alaska Native and American Indian women, both pregnant and non-pregnant, throughout the life continuum, from adolescence to post-menopausal. The OB-GYN care team consists of a physician, certified nurse midwives, registered nurses, licensed practical nurses, behavioral health consultants, registered dietitians, certified medical assistants, management, and support staff.
Services include: Low risk and high risk obstetric care, comprehensive gynecologic care, including diagnosis and treatment of abnormal uterine bleeding, menstrual cycle disorders, minimally invasive gynecologic surgery, office-based gynecologic surgery, urinary incontinence, pelvic organ prolapse, sexual disfunction, menopausal conditions, cervical dysplasia, vulvar and vaginal disorders, comprehensive family planning services, initial evaluation and treatment of infertility, gynecologic cancers, vasectomies, and circumcision. These services are provided by certified nurse midwives or boardcertified OB-GYN physicians, depending on your preference.
If you have concerns, talk with your primary care provider or the OB-GYN integrated care team.