Recreate Safely and Help Slow the Spread of COVID-19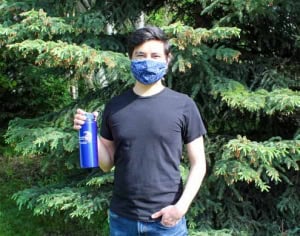 In the land of the midnight sun, there are many ways to appreciate Alaska's beauty. While enjoying the warmer weather, sunshine, hiking, camping, fishing, or berry picking — be mindful of safety.
During the beautiful summer months, it is important to recreate safely and help slow the spread of COVID-19. While in public, remember to wear a mask. Cloth face masks should include multiple layers of fabric. It should fit snugly but comfortably against the side of the face and allow for breathing without restriction. The mask should be machine washed after each use. When taking off your mask, be careful not to touch your eyes, nose, and mouth and wash your hands immediately after removing.
It is also important to continue to practice social distancing. Be mindful of passing those around you by staying 6 feet away. Wash your hands often with water and soap and lather for at least 20 seconds. Hand sanitizer with at least 60% alcohol may be used if you are not able to wash your hands.
Last summer's temperatures were record breaking in Alaska. Take precautions to avoid heat exhaustion and heat stroke. Do not forget to pack plenty of water for all outings. Stay hydrated by drinking plenty of water — especially while out on hot sunny days. Stay in the shade, and do not overdo your time in direct sunlight. If you are feeling fatigued, replenish with an electrolyte-rich drink. Remember to wear plenty of sunscreen and light, loose-fitting clothing.
Wildfires were at an all-time high as well last summer. When barbequing, never leave your grill unattended. Use grills outdoors in a flat open space, light grills properly, and follow the manufacturer's instructions. Proper usage of a lighter and disposal of used matches is an important practice. Do not leave a fire unattended while camping. Ensure the fire is enclosed safely by putting rocks around it. Fully extinguish the campfire before sleeping or leaving the immediate area. Be aware of the wind conditions and burn bans in your area and obey all local laws regarding open fires.
When exploring nature, be aware of your surroundings at all times. Carry a bear bell and spray. Let someone know where you are going and when they should expect you back. For all activities, be sure to wear the appropriate protective equipment, such as a helmet when riding a bike or ATV. Reflective clothing should also be worn when near roads to ensure everyone can see you. While having fun at the lake or fishing, do not forget to wear a properly fitted life jacket. Have a fun and safe summer!
Sarah Williams