Remembering an
Alaska Native Leader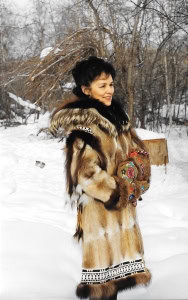 Southcentral Foundation sends its condolences to the family of revered Athabascan leader Mary Jane Fate. Mrs. Fate passed away in Fairbanks at the age of 86. Mrs. Fate was born and raised in Rampart. After graduating from Mount Edgecumbe High School, she was one of the first Alaska Native women of her generation to attend the University of Alaska Fairbanks, where she studied accounting. The university awarded her an honorary Ph.D. of Laws degree in 1992. She worked for the passage of the Alaska Native Claims Settlement Act, taking the minutes during many statewide and Interior meetings to achieve the milestone legislation.
Mrs. Fate was a founding member of the Fairbanks Native Association, Tundra Times Newspaper, the Institute of Alaska Native Arts, and was a past president of the North American Indian Women's Association. She was also instrumental in establishing the Breast Cancer Detection Center in Fairbanks, to provide mobile mammograms and education in rural Alaska.
The first woman co-chair of AFN, Mrs. Fate served as a University of Alaska regent, and as the only indigenous member on the U.S. Arctic Research Commission during her term. She was known as a bridge builder, a peacemaker, and as one who always brought people together to make things happen. Mrs. Fate is survived by her husband, Bud, four children, and many grandchildren.