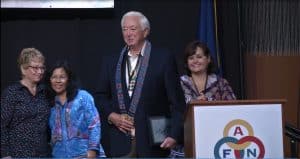 Southcentral Foundation Board Member Roy Huhndorf was honored by the Alaska Federation of Natives with the Dr. Walter Soboleff Warriors of Light award on Oct. 20 during the annual convention.
The Warriors of Light award is named for the late doctor who was a Tlingit scholar, respected Elder, and religious leader. The AFN award recognizes an Alaska Native who uplifts and unifies our people.
Huhndorf was born in the village of Nulato and is of Yup'ik descent. He served in the U.S. Army and
moved to Anchorage after his service, where he became involved in the land claims settlement.
In her nomination of Huhndorf, CIRI President and CEO Sophie Minich said, "Roy Huhndorf is that
rare individual who combines visionary thinking with sharp intellect and a big heart to improve the
lives of Alaska Native people. The leadership he provided and the decisions he guided have helped
to change thousands of lives and generation will benefi t from his contributions."
Huhndorf was elected to serve on the initial board of incorporators for CIRI in 1972. He now serves
as chairman emeritus for the CIRI Board of Directors, serving a total of 40 years on the board and 20
years as the president/CEO. In addition to serving on the board for Southcentral Foundation, he has
served as co-chair for the Alaska Federation of Natives, and as director for the University of Alaska
Board of Regents, United Way, and other organizations.
https://www.southcentralfoundation.com/wp-content/uploads/2018/08/001_SCF_Logo_FC_Web-300x180.png
0
0
Connie Irrigoo
https://www.southcentralfoundation.com/wp-content/uploads/2018/08/001_SCF_Logo_FC_Web-300x180.png
Connie Irrigoo
2017-11-03 15:03:02
2017-11-03 15:03:08
Roy Huhndorf Awarded AFN Dr. Walter Soboleff Warriors of Light Award