SCF Provider Successfully Advocates for Loan Reimbursement Program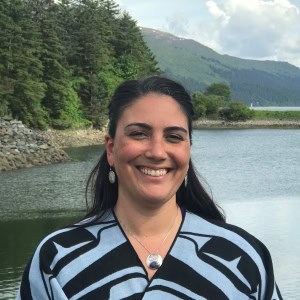 Hands-on and natural healing has been practiced by indigenous people for thousands of years and is in line with many traditional views of spiritual, emotional, and physical wellness.
Dr. Angela Michaud, of Tlingit descent, is the senior director of Southcentral Foundation's Executive and Tribal Services Division and clinic director for Traditional Healing Clinic. She attended chiropractic college to learn how to heal with her hands with the intention of coming back to work for her people. Dr. Michaud joined SCF in 2008 as a chiropractor. She has been an advocate for full health care benefits for Alaska Native and American Indian people by sharing the positive effects of chiropractic care with state and federal officials. In collaboration with SCF's complementary medicine providers and many other stakeholders, Dr. Michaud led the effort to have these health professionals included in the Indian Health Service Loan Repayment Program.
Indian Health Service is federally funded and offers a student LRP for doctors to work toward loan repayment in exchange for a service commitment at an IHS facility. Chiropractors and acupuncturists were not on the list of qualified providers until 2012, when they were temporarily added to the Federal Register, and then removed in 2016. At this time a more strategic advocacy effort was made involving the IHS loan repayment recipients, SCF leadership, and local and national groups such as the Alaska Federation of Natives, Alaska Native Health Board, National Congress of American Indians, and National Indian Health Board. The efforts put forth were fruitful, and in 2020 IHS officially added chiropractor and acupuncturist back on the list of health professions qualified for the loan reimbursement program. SCF has five new recipients with the rest of the qualified candidates grandfathered into the program.
At SCF, customer-owners can access non-allopathic therapies through the Traditional Healing Clinic and Complementary Medicine Clinic, including chiropractic, clinical massage therapy, and acupuncture.
David Clark