SCF Seeks Donations of Personal Protective Equipment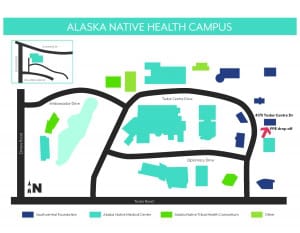 Personal protective equipment provides critical protection for front-line health care workers who support the health of our communities and are battling COVID-19. Given the national demand for PPE and Alaska's distance from suppliers, avoiding PPE shortages will require intentional use of existing supplies.
Southcentral Foundation is requesting the following unused PPE donations: Nitrile exam gloves (NO LATEX GLOVES), gowns, masks, respirators, face shields, goggles, and powered air-purifying respirators. Please do not donate expired items. Even if you do not have PPE to donate, there is still a way you can help.
SCF is accepting homemade masks made with the following criteria:
• Build a mask that tightly encloses the area around the nose and mouth, from the bridge of the nose down to the chin.
• The mask should extend onto the cheek beyond the corners of the mouth, so no gaps occur when talking or moving.
• Use materials that are tightly woven but breathable. Double-layer the fabric if needed. » Masks must be made from washable material such as fabric. Choose a fabric that can handle high temperatures and bleach without shrinking or otherwise deforming. For example, outer layer tea cloth, inner layer of a micro-fleece to wick away moisture, and an inner tea cloth layer. Use an accordion fold to mimic a hospital mask as much as possible and use a fat woven shoelace type material to bind the sides (such as quilt binding). For straps, use non-latex elastic straps that loop behind the ears.
• The mask should be tolerant of expected amounts of moisture from breathing.
"Please don't think a mask is a reason for you to get out and move about. Please stay inside-shelter in place. We can contain this if you do that." – Dr. Terry Simpson, director, SCF Board of Directors.
All PPE donations for SCF can be dropped off at the south entrance of 4175 Tudor Centre Drive in Anchorage, Monday – Friday, 8 a.m. – 5 p.m. When arriving at the building, please call (907) 729 6720 for additional drop off instructions. Any amount of the requested PPE will be much appreciated and help front-line employees protect themselves from exposure. PPE has a pivotal role in the prevention of the spread of COVID-19. When used correctly, PPE will act as a barricade to exposure for employees providing care for customer-owners.
To help reduce the stress on health care systems, everyone should do their part in stopping the spread of COVID-19 by staying home. Even though social distancing can be hard at times, it is vital for a successful response to COVID-19. Everyone should also properly wash their hands with soap and water, and when water is unavailable apply alcohol-based hand sanitizer.
SCF is closely following the recommendations provided by the World Health Organization and the Centers for Disease Control and Prevention guidelines. The health and safety of customer-owners, employees, and families is SCF's top priority. If you have questions about donating PPE items email scfppedonations@southcentralfoundation.com.
SCF Public Relations