Benteh Nuutah Valley Native Primary Care Center Behavioral Health Clinic
The Benteh Nuutah Valley Native Primary Care Center (VNPCC) Behavioral Health Clinic offers customer-centered services for individuals and families in the Matanuska-Susitna Valley area. Services are available for Alaska Native and American Indian people ages 18 and older, as well as for children ages 6 to 18, with parental consent.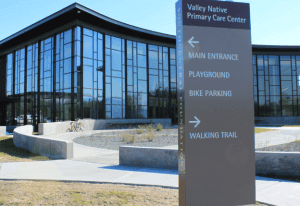 Behavioral Health Services include:
Psychiatric evaluation
Medication management
Psychotherapy (individual, and learning circles, limited family and couples)
Psychoeducational
Crisis Intervention
Case management and
Community resource referrals
There are a number of groups and specialized programs available. Please call for current group days and times.
Benteh Nuutah
Valley Native Primary Care Center
1001 Knik-Goose Bay Road
Wasilla, AK 99645
Phone
(907) 631-7800
Fax
(907) 631-7633
Hours
7 a.m.-6 p.m.
Monday-Friday