Dental Assisting Technology Program
Southcentral Foundation Dental Assisting Training  program is an off-campus site of Salish Kootenai College  in Montana. The DAT program trains students to become a dental assisting professionals,  involved citizens, and to be an asset to and complement the dental health team. The program stresses skills such as critical thinking and job readiness. Upon completion of the program, graduates will obtain a certificate of completion in Dental Assisting Technology from SKC and be eligible to take the Dental Assisting National Board exam to become a Certified Dental Assistant. Dental assistants perform duties such as: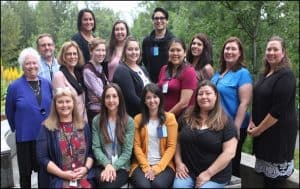 Sterilize and disinfect instruments and equipment
Prepare materials to treat customer-owners
Obtain and update customer-owner dental records
Assist in four-handed dentistry
Dental radiology
Instruct customer owners on general oral health care
The August 2019 class is now accepting applications. Interviews will begin in May. To apply, click the Become A Student button.
Please note this is not a paid position, but can lead to future employment with SCF.
About the Dental Assisting Technology Program
Course Competencies
Upon completion of the program the student should be able to:
Assist chairside, maintain proper asepsis, and utilize instruments, equipment, and moisture control in all aspects of dentistry. This includes assisting with anesthetic, performing rubber dam application, sealant, fluoride, coronal polish, and oral hygiene instruction.
Identify and apply concepts of dental terminology, record patient medical and dental history.
Identify and apply the concepts of dental ethics in relationship to dental team. culturally and professionally.
Have the knowledge to schedule patients for various treatments, maintain a recall system, order and maintain supplies, complete patient insurance forms, and make financial arrangements.
Perform laboratory procedures including taking impressions, pouring and trimming study models, constructing custom trays, bleaching trays, and mouth guards, temporary restorations, and manipulate intermediary materials using aseptic technique.
Expose, develop, mount and critique radiographs including conventional, panoramic and digital radiographic images.
Students will also be required to take additional college courses such as Computer Literacy, Native American Studies, and Human Relations.
Course Components
During the five-month program, which combines academic and clinical training on the Alaska Native Health Campus, your training will include:
Learning materials (including textbooks)
Training in a state-of-the-art dental clinic with experienced instructors and staff
Gaining knowledge of dental disease and prevention
Professional communication and customer service
Policies and procedures have been developed related to blood-borne and infectious disease.  These policies, which may be obtained from Southcentral Foundation, are available to applicants prior to admission and customer-owners.
About the Program
The Dental Assisting program prepares individuals for professional career placement in dentistry. Within five months, students will earn 52 college credits at no cost, as well as develop the skills and knowledge through instruction and clinical experience to open career opportunities! These include:
Certificate of Completion in Dental Assisting Technology from Salish Kootenai College
An Indian Health Service certificate in radiology
Eligibility to take the Dental Assisting National Board exam
Eligibility for further employment at SCF Dental Program (position not guaranteed)
Qualifications
To qualify for the program, you must:
Be Alaska Native or American Indian
Have a high school diploma or GED
Be age 18 or older
Have an SCF interview and observation
Complete the Salish Kootenai College application and be accepted
Complete dental assisting application and be accepted
Have current Immunizations
About Salish Kootenai College
Salish Kootenai College is accredited by the Northwest Comission on Colleges and Universities. The SKC Dental Assisting Program is accredited by the Commission on Dental Accreditation. To learn more about SKC, please click here.
Frequently Asked Questions
Why this program?
Educational programs abound, so why choose this one? If you qualify, you will earn 52 college credits at no cost. Students are eligible to apply for FAFSA. At completion of the course, students will be eligible to sit for the Dental Assisting National Board exam.
When can I apply?
Applications are accepted year-round, however there are only two cohorts per year- one beginning in January and one beginning in August. If you are accepted to the program, you will join the next scheduled session.
How much does the program cost?
There is no cost to the student for the program. All tuition, textbooks, learning material, and clinical attire are provided.
Can I work while I complete the program?
The Dental Assisting Technology program is full-time, with classes held during SCF business hours.
How is this different from "traditional" college?
Course study will take place during dental clinic business hours at SCF. All students will be held to the employee standard of behavior, dress, and attendance. This includes clinical uniforms, 100% expected attendance, and professional customer service behavior. To learn more about these standards, please click here.
What can I expect as a CDA in the job market?
Southcentral Foundation has lots of opportunities for advancement in the dental assisting profession.   Dental assistants can progress from level 1 through level 3.  There are positions for specialty dental assistants in areas like Orthodontics, Oral Surgery, Pediatrics, and more. Dental assistants also have the opportunity to progress to management positions such as supervisors, managers and administrators.
SCF/SKC Dental Assisting Technology program educates and trains students to work in all practice settings throughout the United States. Some dental assistants choose to continue their education in dental hygiene, dentistry or other health occupations.
SCF Dental
4441 Diplomacy Dr.
Anchorage, AK 99508
(907) 729-5749
Salish Kootenai College
58138 Hwy 93
Pablo, MT 59855
(406) 275-4800