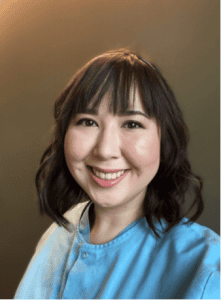 Annalise Corpuz
Annalise Corpuz graduated from Southcentral Foundation's Dental Assisting Technology program in June 2019. She was immediately hired as a dental assistant at SCF's Fireweed Dental Clinic in Anchorage. She continues to pursue a dental career at SCF and recently passed the Certified Dental Assistant exams. She is working toward becoming a specialty dental assistant and hopes to one day join the dental prosthodontics team.
Before attending the DAT program Corpuz had a variety of jobs, but she wanted a fulfilling career and not just a job. Corpuz realized she had a passion for dental and found out the 5-month long DAT program could give her both a career and a job. She loves being a dental assistant serving the Native community, working with an excellent team, and helping to create a quality, enjoyable dental experience.
"I wouldn't have it any other way; 5 months of intensive education with amazing instructors and dental employees, plus the clinical experience- it's all invaluable," Remarked Corpuz. "I recommend the DAT program to anyone, especially if they are willing to learn every day, are adventurous, team-oriented, and dedicated. This is just the beginning; there are so many other avenues that open up for you once you graduate from the DAT program!"
Southcentral Foundation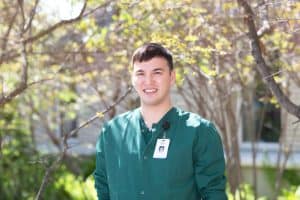 Curtis Thorne
Curtis Thorne is a dental clinic manager at ANMC. He is a certified dental assistant and has obtained his Dental Anesthesia Assistant National Certification Examination certificate. When Curtis graduated from high school, he wasn't sure what he wanted to do. His mother, who is a dental assistant as well, encouraged him to apply for the Dental Assistant Trainee Program at Southcentral Foundation. Curtis went through the program in August 2005 and has worked at SCF ever since. He really enjoys being a part of SCF; the opportunities and support it offers employees is truly remarkable. He also loves working with the Native Community. As an employee, Curtis feels supported personally and professionally by his co-workers and supervisors. SCF really encourages professional growth and development. Every day, he feels like he learns something new and that he's a part of innovation and change. Oral health is very important to him and feels as though he helps make a difference. Curtis says, "I'm not just a dental assistant here at SCF, I'm a part of the team and together we are making a difference in the Native Community and their oral health." Curtis is a true example of SCF's initiative for "growing our own," as he has worked his way through the ranks from dental assistant to manager, proving that the DAT Program is more than a job; it's the start of a career.
Southcentral Foundation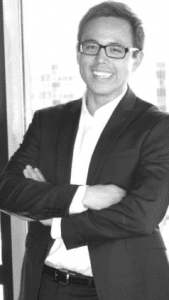 Max Dolchok
Maxim Dolchok Jr., Dena'ina Athabascan, graduated from high school in 2002. He enrolled in Southcentral Foundation's Dental Assistant Trainee Program in 2003, now called the Dental Assisting Technology Program.
Max has been involved with SCF for more than half his life, starting with SCF's RAISE Program at the age of 14. RAISE provides opportunities for on-the-job workforce experience in the context of Alaska Native cultural values.
Max progressed proficiently within the dental program, starting as a dental assistant. He advanced to become a supervisor, dental manager, and eventually shifted his focus in college to business. Max is grateful for the opportunity provided by SCF to work in dentistry, while completing his undergraduate degree.
Max will graduate with a master's degree in business administration from the University of Alaska Anchorage in 2020. He attributes his success to professional development provided by SCF through RAISE and the Dental Assisting Technology Program.
In August 2018, Max was hired as a special assistant in SCF's Resource and Development division. He works under the leadership of Dr. Kevin Gottlieb, SCF chief of staff and vice president of resource and development. Dr. Gottlieb oversees several programs and departments, including SCF Dental.
Max is also an adjunct instructor with the DAT program, helping to train future SCF dental assistants. As for the future, he hopes to stay with SCF. "It's such a good organization to work for," he shared. "I've been with SCF for 16 years, but it doesn't seem that long at all. I encourage others to enroll in the SCF DAT Program and see where it may lead them."
Southcentral Foundation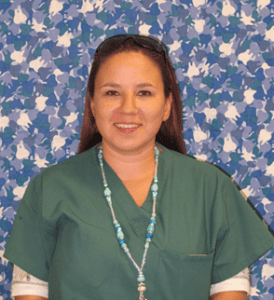 Christina Bailey
Christina graduated the Dental Assistant Program in May 2007. She has served in many different roles; currently she is the dental field manager at the Dr. Katherine and Dr. Kevin Gottlieb Building. Christina has been very passionate about the DAT program and the Dental Field program. She is also a 2017 Honoring Our Successes recipient for her improvement efforts with the ANMC Dental Field Room.
Southcentral Foundation
Program Graduate Articles