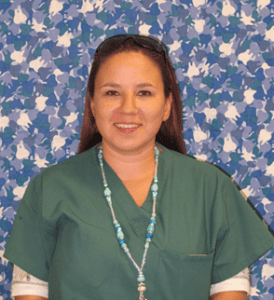 Christina Bailey
Christina graduated the Dental Assistant Program in May 2007. She has served in many different roles; currently she is the dental field manager at the Dr. Katherine and Dr. Kevin Gottlieb Building. Christina has been very passionate about the DAT program and the Dental Field program. She is also a 2017 Honoring Our Successes recipient for her improvement efforts with the ANMC Dental Field Room.
Southcentral Foundation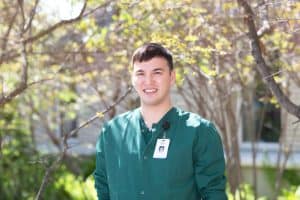 Curtis Thorne
Curtis Thorne is a dental clinic manager at ANMC. He is a certified dental assistant and has obtained his Dental Anesthesia Assistant National Certification Examination certificate. When Curtis graduated from high school, he wasn't sure what he wanted to do. His mother, who is a dental assistant as well, encouraged him to apply for the Dental Assistant Trainee Program at Southcentral Foundation. Curtis went through the program in August 2005 and has worked at SCF ever since. He really enjoys being a part of SCF; the opportunities and support it offers employees is truly remarkable. He also loves working with the Native Community. As an employee, Curtis feels supported personally and professionally by his co-workers and supervisors. SCF really encourages professional growth and development. Every day, he feels like he learns something new and that he's a part of innovation and change. Oral health is very important to him and feels as though he helps make a difference. Curtis says, "I'm not just a dental assistant here at SCF, I'm a part of the team and together we are making a difference in the Native Community and their oral health." Curtis is a true example of SCF's initiative for "growing our own," as he has worked his way through the ranks from dental assistant to manager, proving that the DAT Program is more than a job; it's the start of a career.
Southcentral Foundation
Marina Haynes
Marina attended the SCF dental assistant program in July 2004, and was thankful for the opportunity to train in the dental field and the Indian Health Services. After finishing the program, she was hired full time and soon trained in the Prosthodontics department where she really enjoyed working with Alaska Native Elders along with the whole team helping with dentures, crowns, bridges and implants. Marina returned to college to become a hygienist and started the UAA dental hygiene program in 2010, and continued to work at SCF as a dental assistant when time permitted. She even came back to SCF for a hygiene externship! Marina graduated in 2012, and was promoted to dental hygienist at SCF. She says, "this has been a fulfilling career so far, and the goal of helping my Native Community with health care has been realized. I would recommend this program and career field to anyone who enjoys fast-paced work, learning every day, and helping people."
Southcentral Foundation
Program Graduate Articles