C'eyiits' Hwnax Life House Community Health Center
COVID-19 Information
Southcentral Foundation's President/CEO and leadership understand these are difficult times and continue to closely monitor this dynamic, rapidly evolving situation.
Part of SCF's Emergency Management Plan and Pandemic Response includes different levels of operations and staffing based on many factors, including paying attention to guidance from health authorities and local officials.
Eklutna Community Clinic is available to both Alaska Native and non-Native people.
In partnership with the Chickaloon Village Traditional Council, SCF assumed management of health care services offered between Palmer and Eureka, including Sutton, Chickaloon, and Glacier View. C'eyiits' Hwnax Life house, which is located in Sutton, became a designated Federally Qualified Health Center in 2016. The C'eyiits' Hwnax Life House Community Health Center offers high-quality services, family wellness, and for everyone (regardless of IHS. status) at any stage of life.
Services are available to all members of these communities on a sliding fee scale depending upon both household income and size. The C'eyiits' Hwnax Life House Community Health Center team will work in partnership with you — and in partnership with each other — to ensure you receive the tools, support, and resources you need to make health-related decisions, and that all your health needs are addressed.]
C'eyiits' Hwnax Life House Community Health Center offers COVID-19 testing.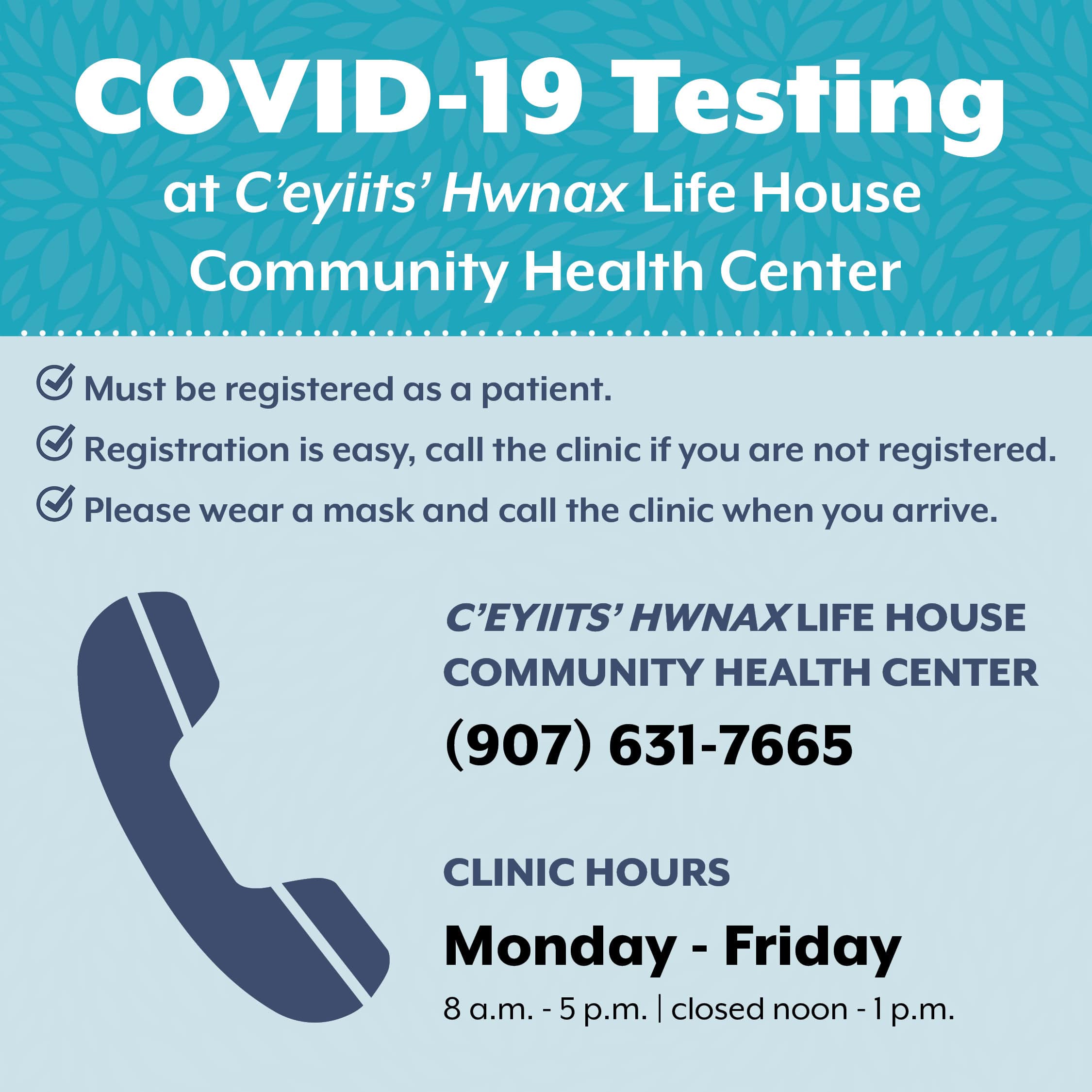 This webpage is supported by the Health Resources and Services Administration (HRSA) of the U.S. Department of Health and Human Services (HHS) as part of an annual award of around $5,800,000 with 0% financed with non-governmental sources. The contents are those of the author(s) and do not necessarily represent the official views of, nor an endorsement, by HRSA, HHS, or the U.S. Government. For more information, please visit HRSA.gov.
C'eyiits' Hwnax Life House Community Health Center
11495 N. Callison Street
Sutton, AK 99674
Phone
(907) 631-7665
Fax
907-746-1855
Hours
Monday – Friday
8 a.m. – 5 p.m.
closed noon – 1 p.m. during lunch
Urgent: 911
After hours/non-urgent (907) 891-3750