Silver Linings Highlight Community Resilience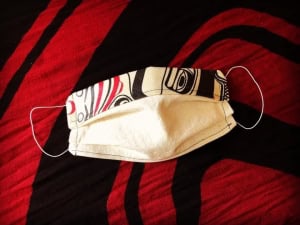 Alaska is strong, resilient, and has held its ground through wildfires, earthquakes, and now COVID19. In every storm cloud, there is a silver lining. Alaskans have been standing strong to support one another while practicing social distancing. Here are ways the community is bringing joy and stepping up to support the efforts to fight COVID-19. Bear Hunt: Inspired by Michael Rosen's We're Going on a Bear Hunt, neighborhoods have put on bear hunts by placing teddy bears in their windows and on their front porches. Families then drive around and hunt for bears, playing a find and seek game providing easy entertainment for small children that allows them to be out of the house and socially distant.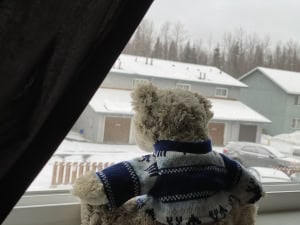 Everyone is invited to participate by putting a teddy bear in the window and the next time the family takes a drive, be sure to keep an eye out for other bears in the neighborhood. Mask makers: As personal protective equipment is becoming less readily available and many hospitals are seeking donations individuals have stepped up to help. Equipped with sewing machines and a desire to help, an Alaska-based Facebook group, Alaska Mask Makers, has taken up the call to action. On March 20, Lorie Ann Hardin created the group to bring a sense of community in such an uncertain time.
Hardin explained that she was feeling lost since she was unable to return to work due to COVID-19 and the group was helping her keep her identity. Hardin added, "I wanted to help build resilience in the community to cope with historical trauma and try and prevent that for what we are currently working through." This online group went from one to over 3,700 members in less than a month. So far, participants constructed more than 3,500 masks for health care facilities, retirement homes, and local and rural Alaskan communities. A master seamstress and nurse lead the group, virtually teaching others best practices for mask making. Those who can't sew help obtain supplies and deliver completed masks to requesters.
Everyone involved shares camaraderie by swapping designs, patterns, and techniques. Standing strong together: Many Alaskan businesses are also helping. One such business has switched gears entirely. John Schwartz at Perfectionist Auto Sound went from installing sound systems and autostarts to 3D laser printing face shields for health care facilities around the state, including Southcentral Foundation. Starting with a goal of 500 masks for Alaska, that objective was quickly met by the end of March. Now with a new goal, and a couple of adjustments to his original design, Schwartz is working on 1,000 more shields for Alaska. He is helping to ensure our front-line health care employees are safe during this difficult time.
SCF extends a heartfelt thank you to all the community doers who have risen to the challenges that surround COVID-19. Through continued action on the individual, organizational, state, and national levels, we can face this difficult time together and demonstrate the incredible level of integrity and kindness that exists in Alaska by continuing to do amazing things for our community.
SCF Public Relations