Staying Grounded Through Sharing Story and Exercise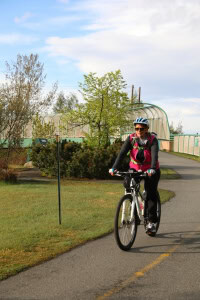 There are many ways to manage stress and stay grounded, which can range from sharing your experiences and connecting with others to taking care of your physical wellness. Humans are social creatures. We are hardwired to be in relationships and benefit from being surrounded by those we love. As we practice social distancing and spend more time apart from friends and family, it may feel lonely, isolating, and closed off.
Be sure to stay connected with friends and loved ones and use the resources available to you, such as phone calls, video chats, and even letter writing, which are all excellent ways to stay connected. We are all in this together. By coming together as a community in Alaska and as a nation we can overcome the most difficult of challenges.
Southcentral Foundation recognizes that stories connect us, with this understanding we were excited to learn about a unique project the Public Broadcasting Service is offering to unite people. The project is called American Portrait, and it shares stories from people across the nation regarding the impact of COVID-19. PBS is asking the question: What did you never expect to do, see, or hear?
You can share your response or find stories by using #AmericanPortraitPBS on social media, visiting to.pbs.org/390b1c9 or pic.twitter.com/KhT1PaSnL5. Exercise can be an incredible tool to help reset a negative attitude and create a positive outlook.
Unfortunately, many of us don't get enough exercise or don't exercise at all. The U.S. Department of Health and Human Services recommends at least 150-minutes per week of moderate aerobic exercise for adults and 60-minutes per day for children and adolescents. Exercise helps in several ways. It ramps up energy levels, lowers stress hormones, increases feel good endorphins, and helps improve sleep.
As many of us are adjusting to different schedules and routines in response to COVID-19, remember to take time today to go for a walk around your neighborhood, stretch, or dance in your house. If you are unsure where to start, there are many online options for instructor-led stretching, dancing, or yoga. Don't hesitate, start now, stand up and take a moment to move in whatever way feels best for your body.
KJ Worbey and SCF Public Relations