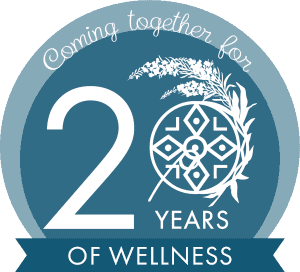 On Feb. 4, Southcentral Foundation will host The Gathering, a family-friendly community health fair that is free and open to the general public. The Gathering is a congregation of people and cultures that is attended by nearly 3,000 people each year. Individuals and families of all backgrounds and ages are welcome to come enjoy a variety of age-appropriate activities, learning opportunities, giveaways, and entertainment. This year's celebration marks the 20th anniversary of the event and will take place from 10:30 a.m.–3:30 p.m. at the Egan Civic and Convention Center in Anchorage.
The Gathering was conceived by SCF leadership back in the late 90s. The vision was to honor the Alaska Native tradition of bringing people together with family and friends to visit, eat, dance, and share. However, this event does more than honor tradition, it opens its doors to the entire community to share health information and to celebrate the benefits of physical, mental, emotional, and spiritual wellness.
Throughout the years, The Gathering has seen a variety of participants and attendees. Alaska's political leaders have attended and are enthusiastic supporters. Last year, Governor Walker attended, and in years past, Congressman Don Young, Senator Lisa Murkowski, the late Senator Ted Stevens, and others have also joined in the festivities.
Perhaps most notably, Golden Globe nominated actress Irene Bedard, who starred in Smoke Signals and as the voice of Disney's Pocahontas, celebrated with SCF in 2012 by attending The Gathering. She met with attendees and autographed memorabilia for fans.
New additions that SCF is excited to present at the 20th Annual Gathering include the Family Wellness Zone, a SCF Health Education-run area where adults and children can participate in activities as a family; an incredible magic show with magician, Magic by Robbie; and story time, a place for families to experience the exciting power of narrative. Returning family favorites include complimentary carriage rides, face painting, and free tax preparation!
Please join us at The Gathering to learn more about Alaska Native culture and healthy living, and enjoy connecting with the community.
https://www.southcentralfoundation.com/wp-content/uploads/2018/08/001_SCF_Logo_FC_Web-300x180.png
0
0
acantrell
https://www.southcentralfoundation.com/wp-content/uploads/2018/08/001_SCF_Logo_FC_Web-300x180.png
acantrell
2017-01-26 04:27:07
2017-02-09 04:27:39
The Gathering Celebrates Its 20th Anniversary