The Nuka System of Care in the Time of the COVID-19 Crisis Continued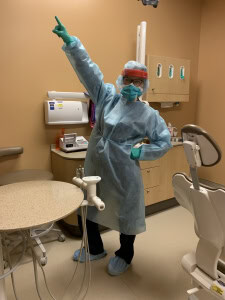 SCF's approach has kept our highly capable Integrated Primary Care Teams fully functional. Although it hasn't been accomplished without some challenges, maintaining the recommended sixfoot distance between employees has required creative approaches among the co-located team members, which includes quite an array of home support functions.
SCF has been able to continue offering a large span of outpatient and residential behavioral health services and addictions programs, with the teams largely operational. Many elective services and functions such as optometry, complementary medicine, dental, etc. have transitioned to urgent/emergent services or are largely closed.
The pay-off for years of relationship-based governance and leadership is an environment of trust that allows for quick adaptation and change. The Nuka System of Care is customerowned at every level — corporate, regional, local, and personal. As all of us make huge adaptations in our systems every day it can create an environment of accelerated learning.
The success of the Nuka System of Care can be attributed to SCF's dedication to be a learning organization. It has equipped SCF with the tools needed for the current huge transitions in system design that were required to immediately respond to COVID-19. It has also prepared SCF to continue to learn and adapt successful solutions into long term processes.
In Alaska we are taking every precaution possible to face the coming challenges and feel confident that SCF can quite effectively and safely continue to support the ongoing medical needs of the 65,000 customer-owners engaged with the Nuka System of Care.
Through decades of adaptation and innovation and work that has emphasized customer-ownership, self-determination, and shared responsibility, SCF is confident in facing the challenges ahead and continuing to partner with the Anchorage, the Matanuska-Susitna Borough, and remote communities to deliver care that supports the needs of the people.