Your Health Information is Just a Click Away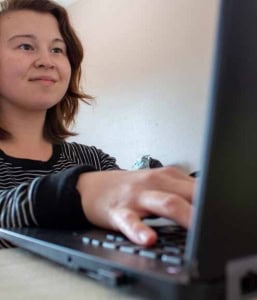 Ever wonder what your blood type is, or can't remember off the top of your head? Or maybe you're struggling to remember the results of your last checkup. Thanks to the SCF MyHealth portal, this information is all just a click away.
Customer-owners who use the MyHealth portal are able to connect to a limited view of their personal health care information, including test results with detailed breakdowns. The portal also allows individuals to make appointments with primary care providers, view future appointments, and access a clinical record summary. The summary includes information that ranges from current medications and immunizations to allergies and procedures.
The portal not only shows results – it also describes what the results mean. Blood test results, for example, can show whether certain vitamins or hormones are low or high. With this data, customer owners can make informed decisions about nutrition and lifestyle. Additionally, the Secure Messaging feature on the portal can be used to ask routine health care questions by connecting users to their provider teams.
"I love using MyHealth!" says Jessica Davis, a customer-owner and SCF employee. " I am able to message my provider with questions that I wouldn't do otherwise. This is really important to me because with my busy schedule, I don't always have time to make appointments for those questions. I also like the ability to see the lab results and compare them to my previous ones. This helps me to be motivated in making healthy choices. I recently noticed my cholesterol numbers were going up, so I started increasing my fiber on a daily basis."
Davis' story is not the only one. MyHealth is available for all customerowners and allows providers to run things differently than ever before. Once in the system, customer-owners have easy access to important information regarding their care plans. MyHealth is one way SCF supports health care delivery that meets customer-owners where they are on their journeys to wellness.
SCF Public Relations