Administrative Support Training Program
About the Administrative Support Training Program
At Southcentral Foundation administrative support positions range from entry-level to highly skilled and offer a variety of support services in different areas of the organization. The Administrative Support Training Program is an eight-and-a-half-week training program. The program includes the initial application screening, behavioral-based committee interview, training, testing, and placement. ASTP prepares trainees for full-time administrative support employment responsibilities.
ASTP is a competitive program that has achieved prestigious awards and is renowned as a comprehensive and engaging onboarding program:
Brandon Hall Group's Excellence in Talent Management, Silver Award for Best Onboarding Program:Administrative Support Training Program (2012)
Association for Talent Development's Excellence in Practice, three citations —Career Development, Performance Improvement and Workplace Learning and Development: Administrative Support Training Program (2007)
Highlights of ASTP
During the initial training, you get paid while you learn!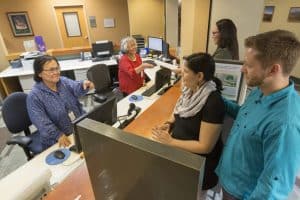 SCF has over 80 different departments and programs. ASTP is a progressive 8.5 week-long program.
The first phase of the program entails 3.5 weeks of professional development classroom training.
The second phase finishes with 5 weeks of on-the-job training. You continue to learn with job-specific mentoring, coaching, and department training specific to administrative support responsibilities of that program or department.
You will have the opportunity to transition into regular, full-time, employment with benefits after the progress review which will determine if SCF is a good-fit by:

Your ASTP supervisor
Your work-site supervisor
You!
SCF's Commitment to Quality, "We employ fully qualified staff in all positions and we commit ourselves to recruiting and training Native staff to meet this need."
Native preference is granted through the Indian Self-Determination and Education Assistance Act (Public Law 93-638).  SCF Human Resources must receive certification before applicants receive preference.
Learn about comprehensive professional development skills:
Business etiquette
Intra & interpersonal communication skills
Customer service
Professional relationships
Emotional intelligence
Conflict resolution techniques
Front desk operations
Medical terminology
Technology training
Goal setting
Career planning
Life planning
ASTP's overall satisfaction rate is 96.43 percent.
Participant testimony, "ASTP provided me with the foundational, introductory information, and skills needed to successfully transition into SCF as a new employee."
Benefits of Starting your New SCF Career
Consider a career with an employer who values all unique contributions and experiences you can offer — whether it's just beginning, a second career or somewhere in-between. SCF's ASTP is a great opportunity for someone who is:
New high school graduates with minimal workforce experience
Recent college graduates wanting to get your foot in the door of a growing organization
An experienced office professional
Retired professional looking for a second career

Your career growth matters. SCF values continual growth and development for employees. Working at SCF means more than merely having a job—it's about developing a real career that can lead to countless opportunities for advancement, supported by on-the-job training, a generous scholarship program, and academic leave. All of this, plus, one of Alaska's most generous benefits packages.
Graduates of the ASTP have moved into various fields throughout the organization, including supervisory, management, process improvement, customer service, program coordination, training, and special events coordination. Others have chosen to stay in administrative work but continue to progress into support positions with greater responsibility, independence, and challenge.
To learn more about the ASTP to decide if it's the right fit for you, visit the SCF Job Board and click the ASTP "Featured Opportunities" link.