Shane Coleman, MD
Medical Director, Behavioral Services Division

Dr. Coleman is was born and raised in North Pole, Alaska and participated in the Alaska WWAMI program, matriculating medical school at the University of Washington. He went on to complete his adult psychiatry residency training at the Massachusetts General Hospital and McLean Hospital within the Harvard Medical School system and was awarded a Ruth L. Kirschstein National Research Service Award, affording a two-year fellowship studying the integration of mental health services into primary care. Throughout his career, Shane has worked with culturally diverse populations, specifically among those with significant health disparities. Examples include experiences working in Cambodia, Guatemala, and rural Alaska, as well as with HIV positive individuals and those with severe and persistent mental illness.
Since arriving at SCF, Dr. Coleman has worked and consulted in the areas of depression; the interface of chronic medical disease and mental health; systems of integrated primary care; and health services data collection and evaluation on a local, national, and international basis within tribal and non-tribal systems.
Verlyn L. Corbett, MD
Service Line Medical Director, Anchorage Native Primary Care Center

Dr. Corbett graduated from the University of Southern California School of Medicine and completed his family practice residency at the University of New Mexico in 1992. He worked for the Indian Health Service in New Mexico for eight years prior to joining Southcentral Foundation in 2000.
His experience working in a very "traditional" model of health care delivery with the Indian Health Service versus his current role as medical director and active clinician with SCF gives him a unique perspective on a system change. He has managed his own panel of customer/owners through many layers of growth and change at SCF over the past 16 years. Current interests include physician recruitment and retention, working on SCF's plan to respond to the opiate epidemic, and partnering with service chiefs of the other medical specialties on campus to facilitate communication, customer service and satisfaction for both internal and external customers.
Originally from Reno, Nevada, he lives in Anchorage with his wife Larisa, their 4 children, and 3 dogs.
Allison Critchlow, DO
Senior Physician, Primary Care 3 West

Allison Critchlow graduated from medical school at Lake Erie College of Osteopathic Medicine in Bradenton, Florida. Her residency was completed at the University of Missouri-Kansas City. Dr. Critchlow is originally from Missouri and recently moved to Alaska from San Antonio, Texas. She enjoys taking part in all that the Alaska outdoors has to offer. Dr. Critchlow loves treating all ages and walks of life and has a passion for women's health and pediatrics. Having trained in an osteopathic medical school, she believes in a holistic approach to health care and likes to include the mind, body, and spirit in her treatment approach. Using those skills, she is able to perform osteopathic manipulative medicine, which is used to help treat both acute and chronic conditions. Dr. Critchlow believes in a team approach to medicine and that patients should play an active role in their health care.
Donna Galbreath, MD
Senior Medical Director of Quality Assurance
Donna Galbreath is the senior medical director of quality assurance for Southcentral Foundation's (SCF) Medical Services Division. She provides direction in strategic planning and development of SCF's comprehensive quality assurance program to achieve optimal health care delivery. Under Donna's guidance, the organization achieved a Level 3 NCQA (National Committee for Quality Assurance) Patient Centered Medical Home status for high-quality health care improvement. Her leadership was essential in helping SCF achieve HEDIS outcomes between the 75th and 90th percentile for many of its services and the Malcolm Baldrige National Quality Award for performance excellence in 2011.
Donna presents nationally and internationally on quality assurance, corporate compliance, and SCF's relationship-based Nuka System of Care.
Georgia Kubic, MD
Primary Care Physician, Primary Care 2 East

Dr. Georgia Kubic is board certified in Family Medicine. She attended Virginia Commonwealth University School of Medicine in Richmond, Virginia and completed her residency at the University of Utah in Salt Lake City. Dr. Kubic enjoys working with families to ensure they are healthy from birth through adulthood. She values building relationships with patients and working together to promote overall wellness. When she is not in clinic, she enjoys spending time outdoors with her husband and two young children.
Dave Lessens, MD
Medical Director, Anchorage Native Primary Care Center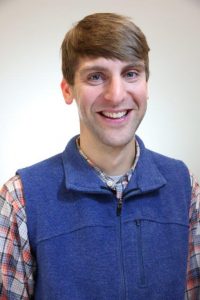 Dave joined Southcentral Foundation in 2013, after trading the Great Lakes for Alaska's mountains. After completing his BA in anthropology and medical school training at the University of Michigan he pursued an MPH at the Johns Hopkins Bloomberg School of Public Health and a family medicine residency at the University of Wisconsin–Madison, where he remained for an academic integrative medicine fellowship.
At Southcentral Foundation, Dave carries a full customer-owner panel, works as a medical director, organizes quarterly educational sessions for providers, has helped design a "wellness store," and serves on multiple committees. He has also had opportunities to teach as part of the University of Washington's WWAMI program. In addition, Dave finds his twice-yearly travels to remote Aleutian villages to be a highlight of his work, wherein he finds opportunities to improve the health of entire communities and to engage his anthropology interests.
When not in clinic, he's spending time outside with his wife and two young children, and is usually feeling giddy about having endless opportunities for Alaskan adventures (at least as long as the kids' naptimes and snack demands permit).
Ryan McWilliams, MD
Medical Director, Primary Care 1 East

Ryan McWilliams joined Southcentral Foundation (SCF) in 2012 as one of several medical directors, where he manages an active practice in SCF's Primary Care Center and co-chairs the Multidisciplinary Pain Team at SCF. He earned his medical degree from the University of Missouri School of Medicine in Columbia, Missouri, where he also completed his residency in family medicine. He earned his bachelor's degree from Truman State University in Kirksville, Missouri.
Born in Tucson, Arizona, Ryan typically claims to be Alaskan; His family moved to Anchorage when he was one month old. They spent seven years in Alaska while his father worked as a primary care/ER physician at the old Alaska Native Medical Center (ANMC) facility. Due to his father's busy schedule, and the difficulty of balancing work and family life, Ryan's family took what they term their "bummatical" and cycled/camped through far-off destinations such as New Zealand, Australia, and parts of Europe, as well as subsisted in rural Alaska near False Pass for several years before moving to Missouri. This led to an interest in international travel: After his medical training as a general practitioner, Ryan returned to New Zealand and Australia to work for several years before finally settling in Alaska. Ryan presents to national and international audiences on integrated care teams and the health care improvement journey in the Nuka System of Care. He resides in Anchorage with his wife, Sarah.
Melissa Shein, MD
Medical Director, Primary Care 3 East

Dr. Melissa Shein is the medical director for Southcentral Foundation's 3 East Primary Care Clinic. Melissa worked as a family medicine physician building positive working relationships with SCF's customer-owners to help them achieve wellness prior to becoming medical director. She is known at SCF for her strong work ethic and the high standards she sets for herself. She attended the University of Washington School of Medicine and completed her residency at the Alaska Family Medicine Residency. In addition to her duties as medical director, she also presents on relationship-based care and other aspects of SCF's Nuka System of Care. Melissa is an Inupiaq mother of six children.
Shiloh Small, MD
OBGYN Physician, Anchorage Native Primary Care Clinic

Shiloh joined SCF in 2012. She is a SCF customer-owner. She is a member of the Northern Cheyenne tribe and was raised on the Northern Cheyenne Indian reservation in SE Montana. She earned a bachelor's degree from The University of Montana in Missoula, medical degree from the University of South Dakota School of Medicine, and completed her residency in OBGYN at the University of Wisconsin in Madison. She has a personal commitment to working with and advocating for native women. She is a member of the Association of American Indian Physicians, and the American Congress of Obstetricians and Gynecologists. She resides in Anchorage with her three children; Sydney, Blaine, and Victoria.
Steve Tierney, MD
Medical Director of Quality Improvement/CMIO

Steve Tierney is Medical Director of Quality Improvement and Chief Medical Informatics Officer for Southcentral Foundation (SCF). Steve joined SCF in 1995 as a primary care physician. He became one of the key physicians who helped lead the transformation to a relationship-based customer-owned health care system. He also played a key role in developing the robust data mart that helps SCF's integrated care teams interpret complex data for internal comparisons and external comparisons against HEDIS benchmarks, where the organization scored in the 90th percentile for many of its services. Steve is trained as a family physician and an acupuncturist. He received his medical degree from the Uniformed Services University in Bethesda, Maryland. He still maintains an active family medicine practice in SCF's Anchorage Native Primary Care Center. Steve presents nationally and internationally on transforming primary care, data integration, clinical quality program design, and complementary medicine integration efforts.
Get in touch with our recruitment team