Employee and Community Assistance Fund
What is ECAF?
Southcentral Foundation Employee and Community Assistance Fund provides emergency financial relief to eligible Alaska residents who are facing unforeseen, emergency, financial hardship. ECAF began as a method to support SCF's Vision of a Native Community that enjoys physical, mental, emotional and spiritual wellness.
Where do annual fund dollars go?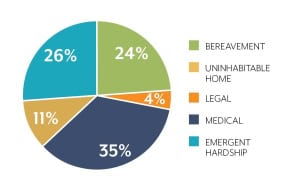 How is ECAF funded?
ECAF is primarily funded by SCF employees and community members. Through fundraising efforts like auctions, vendor events, and employee incentives, ECAF was able to provide critical financial relief to more than 70 families in 2020. Thank you for your continuous support to ECAF!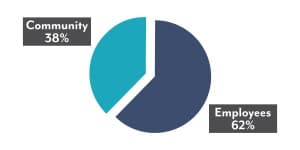 Donate online!
Click here to donate online.
Southcentral Foundation employees can also use payroll deduction options.
Please allow 24-48 hours for a response to emails or phone calls.

Employee and Community Assistance Fund
4501 Diplomacy Drive
Anchorage, Alaska 99508
Email
SCFECAF@scf.cc
Phone
(907) 729-6723
Fax
(907) 729-5227