Benteh Nuutah Valley Native Primary Care Center Behavioral Health Clinic
COVID-19 Information
Southcentral Foundation's leadership understands these are difficult times and continues to closely monitor this dynamic, rapidly evolving situation.
Part of SCF's Emergency Management Plan and Pandemic Response includes different levels of operations and staffing based on many factors, including paying attention to guidance from health authorities and local officials.
In person visits will only be for high-risk customer-owners.
Open via telehealth, Monday to Friday 9 a.m. to 5 p.m.
New customer-owners served via phone.
Learning circles suspended.
Benteh Nuutah Valley Native Primary Care Center (VNPCC) Behavioral Health Clinic offers customer-centered services for individuals and families in the Matanuska-Susitna Valley area. Services are available for Alaska Native and American Indian people ages 18 and older, as well as for children ages 6 to 18, with parental consent.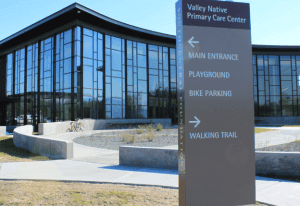 Behavioral Health Services include:
Psychiatric evaluation
Medication management
Psychotherapy (individual, and learning circles, limited family and couples)
Psychoeducational
Crisis Intervention
Case management and
Community resource referrals
There are a number of groups and specialized programs available. Please call for current group days and times.
Benteh Nuutah
Valley Native Primary Care Center
1001 S. Knik-Goose Bay Rd
Wasilla, AK 99654
Phone
(907) 631-7800
VNPCC Fax
(907) 631-7623
Behavioral Health Fax
(907) 631-7633
Hours
7 a.m. – 6 p.m.
Monday – Friday