Southcentral Foundation Offers Convenient Telehealth Visits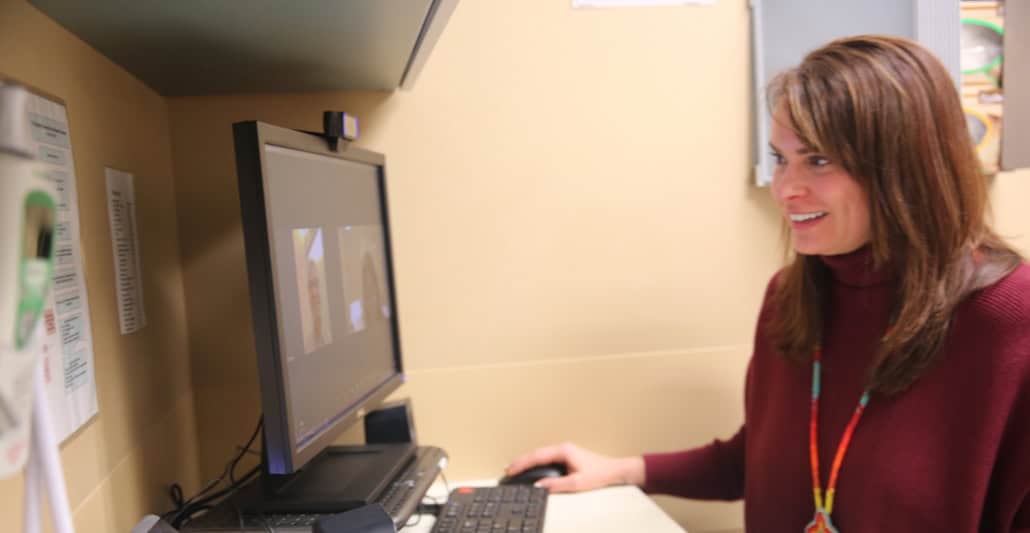 by Jerry Markus
Imagine seeing your health care provider in the comfort and privacy of your own home, office, car, or even miles away while you are fishing or at a cabin. As long as you have a good Wi-Fi connection or cellular signal and a smartphone, computer, or tablet, you can see your health care provider for anything from a minor illness, chronic condition management, behavioral support, or preventative care visit.
This is now a reality at most Southcentral Foundation clinics using a new, secure video telehealth program on Zoom, a cloud-based video and audio-conferencing platform. Customer-owners can use the platform with a computer, laptop, mobile device, or tablet. Primary Care Provider Allison Critchlow reported that Elders have been especially enjoying the face-to-face experience Zoom provides. "These are customer-owners that I had had some phone visits with but then we switched to Zoom. They stated that they haven't been able to get out much and to be able to actually see the provider on their computer screen was therapeutic in itself."
Customer-owners with children or unpredictable schedules have also found telehealth visits to be convenient for them. "[It eliminates the stress of] finding transportation and childcare. Customer-owners appreciate being able to show . . . conditions that otherwise would need to be seen in person. [Zoom is] easy to use and saves time," says Primary Care Provider Elizabeth Harding.
If needing assistance in joining a telehealth visit, Zoom's help center (support.zoom.us/hc/en-us) is a terrific resource for guides and video tutorials. "It is very easy to set up! Customer-owners have been very happy and grateful that they can connect virtually," noted Anna Pfhal, a Primary Care Provider. Ask your provider team about this option the next time you call for a visit.
Here are some great reasons to use a telehealth visit:
No risk of exposure to other illnesses
Convenient and comfortable setting
Eliminate travel time and cost
No waiting rooms
No arranging of childcare
No need to take off time from work, since the visit can be done during a break time
You can include who you want in the visit, even if they are miles away
Choice of connection options — phone, computer, or tablet
Improves access — other health care providers can easily join the visit
Reduces costs to the system — helping to improve and expand services
If a telehealth visit isn't a suitable option for you, SCF clinics have practices in place to make your in-person visits safe. SCF is performing verbal screenings with every customer-owner who enters a clinical building. During the screening, individuals are asked about recent travel, recent contact with people who are sick, and potential symptoms of COVID-19. Once customer-owners are cleared to enter the building, a wristband is provided to signify successful completion of the screening and a face mask is provided if they do not already have one.
When in a clinical building, face masks are required and must be worn correctly, covering the mouth and nose at all times. With both employees and customer-owners wearing a mask, everyone can feel more comfortable visiting SCF clinics when they need to see a provider. Social distancing is practiced when possible, and frequently touched surfaces are sanitized often.
Visit southcentralfoundation.com or use the reference below to locate the clinic's phone number in your area and schedule your telehealth visit today.
https://www.southcentralfoundation.com/wp-content/uploads/2020/11/2H1A8335-e1605052766705.jpg
993
1920
Emma Irish
https://www.southcentralfoundation.com/wp-content/uploads/2018/08/001_SCF_Logo_FC_Web-300x180.png
Emma Irish
2020-11-10 16:10:18
2020-11-10 16:12:48
Southcentral Foundation Offers Convenient Telehealth Visits