A Lifelong Healthy Smile Begins With Baby's First Tooth
By SCF Children's Dental Clinic
Did you know baby teeth are at risk for decay as soon as they break through the gums — which is typically around age 6 months?
According to the American Academy of Pediatric Dentistry, the dental home should be established no later than 12 months of age to help children and their families institute a lifetime of good oral health. A dental home addresses anticipatory guidance and preventative, acute, and comprehensive oral health care and includes referral to dental specialists when appropriate.
Southcentral Foundation recommends that a child's first dental visit is scheduled when their first teeth start to become visible in the mouth, or even before their teeth are visible. Parents are encouraged to schedule annual visits for their children from this point forward. To help support good oral hygiene, providers ask about habits such as brushing and snacking to incorporate a risk assessment into the well-baby exam. Keeping up with regular preventiv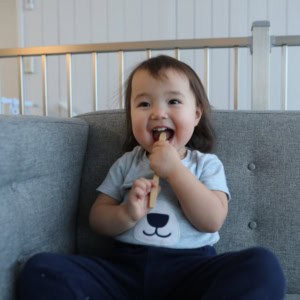 e dental visits is a great first step in helping your child remain cavity free.
Parents can be positive role models by caring for their own teeth and showing children that brushing and flossing are important for a healthy lifestyle. Aunts, uncles, and grandparents can help by giving children healthy, low-sugar snacks. Be sure to encourage brushing before bedtime and in the morning after breakfast to reduce the risk of cavities. Teach your child how to brush and clean in between teeth to build a healthy smile! Children need help brushing their teeth until they can tie their shoes without assistance, which is typically around age 8.
"Attitudes and habits established at an early age are critical in maintaining good oral health throughout life. By participating in the annual celebration of National Children's Dental Health Month, members of the dental team, parents, teachers, and others can help keep children's smiles beautiful now and for years to come," says the American Dental Association.
Call the SCF Children's Dental Clinic for information or to schedule an appointment at (907) 729-2000.