Arise and Conquer: Alaska's Drive Toward Vaccine Success
By Technical Writer Uinita Mauigoa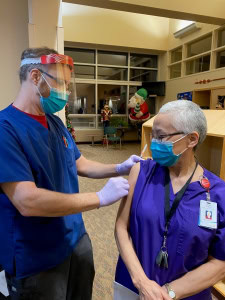 The warrior presence that has kept Alaska Native people resilient and strong through the millennia rose up when it came to the vaccine rollout in Alaska.
The Alaska Department of Health and Social Services reports almost half of Alaska is fully vaccinated, and that number is steadily rising. The Alaska Tribal Health System contributed immensely to the
statewide collaboration toward vaccine success.
Owned by the People, for the People
Tribes are sovereign nations with discretion over the health care needs of their communities. This provides Tribal health organizations the freedom to make decisions about vaccine supplies that are different from state and federal guidelines. Organizations across the ATHS tailored their distribution to include populations that would otherwise have to wait months to be vaccinated. For example, many Tribal health organizations distributed vaccines to Elders age 55 years and older and youths age 16 years and older much sooner than the national average timeline.
Community Relationship-building
Throughout the COVID-19 pandemic, the ATHS has kept focus centered on community — the foundation of many Alaska Native cultures. ATHS quickly secured vaccine supplies from the Indian Health Service that were larger than the amount the state government had obtained. As a result, many Tribal health organizations had a surplus to extend vaccines to communities well beyond Alaska Native and American Indian groups. Many Alaska Native Tribal health organizations
moved efficiently with vaccine administration, much faster than many cities and states from throughout the nation.
Southcentral Foundation exemplified this as it quickly moved to include a diverse array of communities from the southcentral Alaska area when it came to administering vaccines. Early in the vaccine rollout process, SCF formed community partnerships, which included the Municipality of Anchorage and the Matanuska-Susitna Borough, to provide vaccines for people experiencing homelessness, individuals incarcerated, law enforcement, teachers, and emergency medical services, among many more hard-to-reach communities. SCF also partnered with Tribal leaders to provide vaccines for rural communities. Eventually, SCF moved to provide vaccines for all Alaskans age 16 years and older while much of the nation was beset by long lines and drawn-out wait times.

Culturally Relevant Messaging
Recognizing that Alaska Native and American Indian people were disproportionately affected by COVID-19, Tribal leaders and Tribal health organizations spared no time distributing vaccines to rural villages and remote, hard-to-access communities, which account for much of Alaska's highest vaccination rates. Many of the messages focused on preserving Alaska Native cultures and communities. Tribal leaders and Alaska Native community leaders played an impactful role in building trust among many of the Indigenous populations.
Many Alaska Native cultures believe that past, present, and future generations are connected. The present generation of Alaska cannot change the past, but with vaccines available, it has the tools to make a better future for generations to come.
For more information about the COVID-19 vaccine, please talk to your primary care provider, or visit www.southcentralfoundation.com/covid-19-information/