Spooktacular Ideas to Celebrate Halloween at Home
By Public Relations Specialist Esther Robertson
More families are opting to celebrate fall activities at home. There are many ways to have fun at home without missing out on the Halloween excitement. Here are some activities to try with your family that are healthy alternatives to traditional trick-or-treating.
Carve pumpkins: Carving pumpkins is a Halloween tradition that goes back for many years! Have fun making silly, spooky, or happy faces with your family. Don't forget to save the seeds for homemade roasted pumpkin seeds.
DIY upcycled Halloween decorations: Transform ordinary household items into unique decorations. Use glue, construction paper, and markers to turn toilet paper rolls into mummies, zombies, or bats.
Hold a family costume dance party: Just because you're not leaving your house, that does not mean you have to go without the costume. Turn the music up, wear your costume, and have a blast!
Make a jack-o-lantern food platter: Arrange your favorite orange foods, such as orange slices, cheese, carrots, or crackers, with a darker colored food, like grapes, blueberries, or olives to resemble a jack-o-lantern.
Have a trick-or-treat hunt: Instead of going door-to-door for treats, try hiding the treats in spooky-themed eggs around the house for the kids to find!
Schedule a family movie night: Gather around with delicious snacks, and watch your favorite Halloween movies.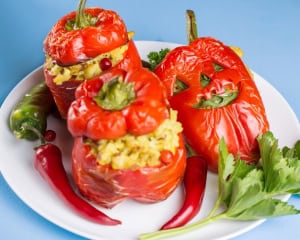 Host a Halloween-themed dinner: Before indulging in sweet treats, start the night with a healthy and yummy dinner. Try this stuffed pepper jack-o-lanterns recipe!
Stuffed Pepper Jack-o-Lanterns
Ingredients:
• 4 large orange bell peppers
• 1 cup cooked white or brown rice
• 1 tablespoon olive oil
• 1 pound lean ground beef, ground turkey, or ground chicken
• 1 medium yellow onion diced
• 8 ounces mushrooms chopped
• 2 cups roasted red pepper sauce homemade or store-bought
• 1 teaspoon dried Italian seasoning
• 1/4 teaspoon red pepper flakes
• salt and pepper to taste
Directions:
1. Heat oven to 350 F.
2. Use a knife to slice the top off of each bell pepper horizontally. Set tops aside. Remove all seeds and membrane. Rinse and pat the peppers dry with a paper towel or a clean, soft cloth. Use a small paring knife to cut holes into the exterior of the peppers to make jack-o-lantern faces.
3. Cook rice according to package directions. As rice cooks, use olive oil or non-stick spray to lightly grease a small sheet pan. Arrange peppers and tops on pan and cook in oven for 20 – 25 minutes, or until peppers are cooked, but are still firm. Remove peppers from oven and allow to cool while you make the filling.
For the filling:
1. Heat 1 tablespoon olive oil in large skillet over medium heat. Add onion and mushrooms and sauté for 3 – 4 minutes. Increase heat to medium high. Add ground meat and spices to pan and continue to cook, stirring occasionally, until no pink remains.
2. Drain excess grease from pan, reduce heat to medium low, add red pepper pasta sauce and cooked rice. Stir to combine, and cook for 2 – 3 more minutes, or until mixture is heated through.
3. Prior to serving, fill each pepper with approximately 1 cup of mixture, over filling each pepper slightly. Place a top onto each stuffed pepper and serve!