5 Steps to Get Your Garden Growing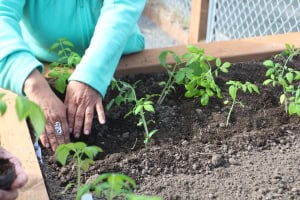 By Southcentral Foundation Public Relations
Alaska has a unique gardening season — a short temperate summer in
a northern altitude with long summer days. The limited growing season
gives gardeners a brief opportunity to start a garden and produce fully
developed plants before the first frost. If you are up to the challenge, even
if this is your first attempt, you can grow to your heart's content with the
right tools, timing, and intent.
To prepare for your garden, think about what you might like to grow and
research the seeds available. Be mindful of the seeds you select for your
starters and consider using seeds that are most suitable for the climate
you live in. If you are unsure, your local greenhouse or garden supply can
be a great resource. Early spring is seed planting time in Alaska, and after
the starters are strong enough, you'll want to harden the plants prior to
transplanting outdoors.
To get started you will need a few basic supplies, how many of each item
depends on how many starters you hope to plant.
• Soil
• Soil pod
• Fertilizer
• Paper cup or personal seedling tray
• Hand shovel or trowel
• Seeds
Once all needed supplies are gathered, stage a workspace so everything
is easy to reach and you can catch any fallen soil or seeds. Then,
follow the five steps below outlined by Southcentral Foundation Health
Education to get your garden growing:
1. Prepare seeds for germination — place a soil pod into a paper cup or
personal seedling tray, water and let it expand, then make a small
bowl shape in the middle of soil pod. Place one to two seeds into the
bowl shape then cover seeds with soil.
2. Water and maintain moisture levels — do not use water that has been
treated with a water softener; once germination begins, make sure
the soil does not dry out.
3. Manage temperature and light exposure — maintain an indoor
daytime temperature between 65 and 68 degrees at nighttime.
Suggested placement for seedlings is a bright, sunny window as long
as the temperature does not exceed 76 degrees. Sunlight can be
supplemented with regular indoor florescent lights.
4. Harden off starters — begin hardening off 7 to 10 days before you plan
to transplant outdoors.
a. Day 1 to 3: Place plants outdoors in a shady area, start with one
hour and increase each day.
b. Day 4 to 6: Place plants in partial shade and move them gradually
into the sun, increasing the time outside each day.
c. Day 7 to 10: Plants should be ready for the sun.
5. Plant — seedlings can be planted outdoors around June 1. Start by
watering each seedling, and then prepare the hole by adding a small
amount of fertilizer and water the area. Create a hole with your hand
or hand shovel and place the seedling in the hole, up the first leaves,
then firm the soil around the plant.
Congratulations, in five simple steps you have created your own garden.
Water your plants regularly, and enjoy the fruits of your labor!